Monday, March 8
It's International Woman's day today. And unlike previous times when I wrote stuff about women empowerment, saving girl child and the like, this time, I have decided to dedicated this day to all my girl friends.
All those girls who matter to me, who made a difference in my life by just being there, who I could talk to in times of distress, who I could laugh with over nothing, who I could gossip with, bitch with, rant with, go out shopping with or simply chat online with.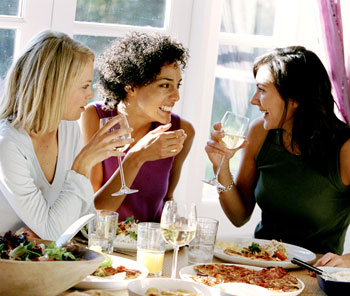 I want to let you know that you really really mean a lot to me. Even if you are married, have kids, have a demanding job or family issues, because of which 'our time' has become limited; but all those moment which we spent together and being there counts.
Thank you. Really.
For listening to me.
For giving me those advices which I already know.
For helping me learn new recipes.
For laughing over my non-sense jokes.
For helping me get out of useless relationships.
For standing by my side.
For bitching with me, gossiping with me.
For all those parties you threw for me, all those gifts you gave me.
For loving me, even though we have points of disagreements.
For keeping my secrets.
For being honest with me.
For making me laugh with all those cranky jokes.
For being there.
And,
For Jhelo-fying me :)
I specially want to mention Divya, Harshita, Rupal and Vibhu. My Best friends for ever.
And all you Virtual friends, from Blogger and Twitter.
If you reached here from the link I gave you, it means you are significant for me..
Love you all
Mwaaaaaaaaahhhhhs :)